It's like Mark Cuban said in a 2017 interview, "Data is the new gold!" These days, almost everything in our lives generates data. Our phones, our computers, even our thermostats! That data is all stored in some format somewhere. The nice thing about Excel is that you can import data of almost any type into it. However, getting metadata, or "data about data," for those datasets in Excel can be difficult.
The solution most often is to purchase third-party software which can cost in the hundreds to thousands of dollars, sometimes, per user!! That can be daunting if you don't want to spend that much money or, worse yet, can't. BTTools™ for Excel can give you metadata about your datasets IN EXCEL for only $9.99 per single user license!
Need the add-in for a lot of people? Contact Us about volume discount pricing! In most cases, we'll be able to work with you and come to a solution that is equitable for both of us!
Still not sure if you want to take the plunge? Surf on over to our BTTools™ webpage, where you can review basic help information and instructions for the add-in, as well as download our FREE best-of-the-best PDF helpfiles!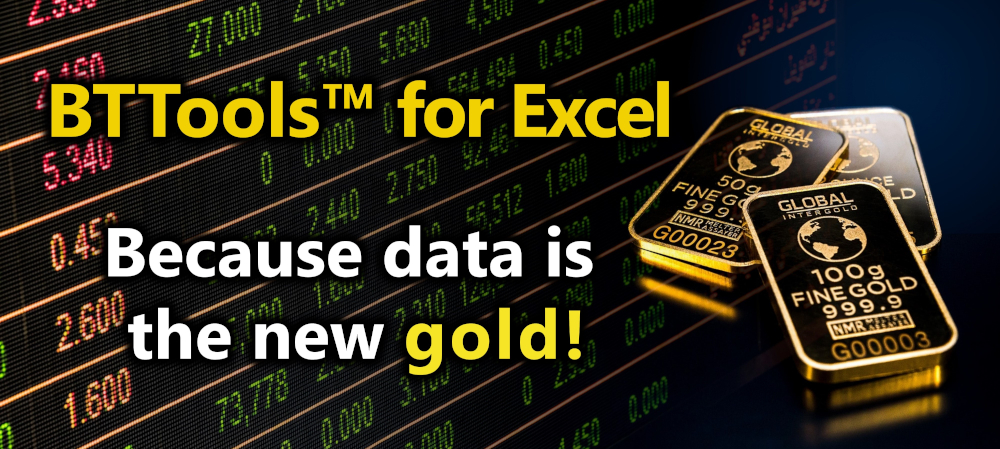 Original gold image by: Pixabay. Used with permission.
Original data image by: Pixabay. Used with permission.
New image Copyright © The Wisconsin I.T. Guru 2023.
Graphic design by The Wisconsin I.T. Guru!